Visit these sites if you . . .

Are in the military or part of a military family and would like to find a source of help and encouragement
Want to give time or money to a ministry reaching out to military personnel and their families
Would like to learn how you could start a ministry to the military in your community
---
Adopt a Chaplain

. "Adopt-a-Chaplain is a Christ-centered ministry that is dedicated to supporting our troops through the ministries of chaplains. By adopting chaplains and their families, we pray for and communicate with them regularly. We send care packages to chaplains serving in the Middle East and they distribute the items to our troops."

American Bible Society

. Arm our brave troops with God's Word!

Armed Services YMCA

. ASYMCA runs more than 150 programs around the world to ease the burden of the families of junior-enlisted military personnel. Some are carried out at single ASYMCA branch locations. Others operate at multiple branch locations o and are customized to meet the specific needs of that community.

​Cadence International

. "Cadence International is an evangelical mission agency dedicated to reaching the military communities of the United States and of the world with the Good News of Jesus Christ. For nearly six decades, Cadence has grown from a small, fledgling mission to an organization with close to 200 missionaries who work in over 50 locations worldwide."

CEF Military Children's Ministry

. Visit this site to learn about Child Evangelism Fellowship's ministry to military families.

​

Christian Military Fellowship

. CMF supports United States military personnel and their families, worldwide, with prayer, Bible studies, local fellowships, conferences, referrals, free literature, correspondence, hospitality, and Christian resources.

Christian Military Wives

. A multi-denominational, Bible based ministry of Christian Military Fellowship established to assist military wives and their families through encouragement and education.

CRU Military

(a division of Campus Crusade for Christ). "We are a caring community passionate about connecting the global military community to Jesus Christ. We are individuals, churches, chaplains . . . people just like you who are drawn together by a common mission. . . . You can make a difference and engage the military in your midst. Lives can be changed, meaningful relationships can happen, and significant opportunities can be pursued. Together we can see this community grow so that everyone in the global military community knows someone who truly follows Jesus."

​

​

Excellent or Praiseworthy

. "A devotional to help military families stay connected during deployments."

Freedom Outreach

: a ministry to the military. "Freedom Outreach is a Ministry to the Military that serves and ministers to members of all branches of the uniformed military services and their families. In addition, the Organization regularly serves military veterans, expatriates, host country nationals and their families through a variety of both traditional and innovative methods. Services are currently delivered at diverse locations in the USA and in 17 different countries."

Guideposts Foundation

. "American servicemen and women around the world—and their families—use our positive, faith-filled publications to help strengthen their courage and faith."

Learn how you can get involved

.

---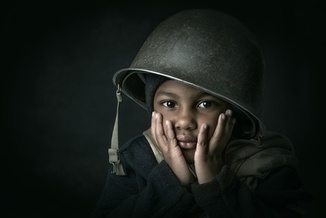 Handicapped Veterans Association
. "
The HANDICAPPED VETS ASSOCIATION is being developed as THE place for us to GATHER, VISIT AND SHARE our experiences.
A place where we will be understood. A place where we can unload without feeling the guilt, where the camaraderie we knew is ongoing, not interrupted by retirement, end of tour separation, or the incident that has forever changed our lives."
MilitaryBeliever.com
. "MilitaryBeliever.com is a location-based social network for the Christ-centered military community. The site matches service members and their families with churches, ministries, military believers, events and Christian service opportunities based on their profile, which includes skills, spiritual gifts, spiritual maturity and personal interests."
Military Bible Stick
. "The Military BibleStick is a digital audio player specifically designed for our military service members. It's about the size of a pack of gum, and comes pre-loaded with a dramatized recording of the entire New Testament and specially selected Psalms. It's rugged enough to withstand tough weather conditions, can be used in low-light situations, and easily fits into uniform pockets."
Learn how you can give a BibleStick
.
Military Child Education Coalition
.
"Our mission: To ensure inclusive, quality educational opportunities for all military and veteran-connected children affected by mobility, transition, and family separation."
Military Community Youth Ministries (MCYM)
. "MCYM staff and volunteers seek to love teens unconditionally and provide a model of Christian hope in our military communities through weekly Club and fun activities. In the field, our ministry is usually know as Club Beyond®."
---
Military Faith
. Connect and grow with military Christians at or near your duty station or ship."
Military Ministry
. "A caring community passionate about connecting the global military community to Jesus Christ."
Military Missions Network
. We are a facilitating ministry. We foster among military believers, churches, and ministries a vision for touching the world through collaboration in missional military ministry. We facilitate connections between military and those who minister to military through networking, websites, social media, community gatherings, conferences, and joint initiatives. We sponsor and conduct training events to equip military believers, churches, and ministries regarding missional military ministry. We partner with military believers, churches, and ministries in order to plant, strengthen, and encourage the church and work of the gospel among military people and communities.
Missions to Military
. "Since its inception in 1958,
Missions To Military, Inc.
continues to be a specialized missionary agency designed to win and train the military for Jesus Christ."
Moms of Marines
. An emotional and spiritual support network for moms of US Marines and recruits.
Navs Military
. "We are passionate about our military and want to share the transforming power of Christ's love with those who have chosen to serve and to minister within the military context. We work alongside chaplains and other Christian ministries to teach, counsel, and make disciples among military personnel and their families."
Officers' Christian Fellowship (OCF)
. "OCF's purpose is to glorify God by uniting Christian officers for biblical fellowship and outreach, equipping and encouraging them to minister effectively in the military society."
---
Operation We Are Here
: We are a one-stop HUB of resources for the military community and military supporters. . . . If you visit our site to find ideas to encourage a neighbor, a friend, a family member, co-worker or someone at your church who is going through the hardship of a deployed spouse,
thank you
for caring. Interested in starting a church ministry to military people and their families? We can help you learn how. If you are a loved one going through a deployment, we hope that in this site you will find an understanding of your situation...you are not alone. If you are new to the military community, we hope that these resources and stories will help you to not just cope with the military lifestyle, but to thrive.
Paws for Purple Hearts
. "
Paws for Purple Hearts is the world's only service dog organization for wounded service members and veterans that partners with Bergin University of Canine Studies. Bergin provides all Paws for Purple Hearts service dogs and trainers." Visit their site to learn more and find out how to get involved.
Point Man International Ministries
. "PMIM is run by veterans from all conflicts, nationalities and backgrounds. Although, the primary focus of Point Man has always been to offer spiritual healing from PTSD, Point Man today is involved in group meetings, publishing, hospital visits, conferences, supplying speakers for churches and veteran groups, welcome home projects and community support. Just about any where there are Vets there is a Point Man presence. All services offered by Point Man are free of charge."
Pray for Our Troops
. Want to pray for our troops and their families but not sure how to pray?
Visit this Find Christian Links page
.
San Diego Military Outreach Ministries (SDMOM)
. A Christian Service to all junior enlisted military families in gratitude for their service. Find out how you can support SDMOM. And consider starting a similar outreach in your area.
Soldiers' Angels
is a volunteer-led 501(c)(3) non-profit organization providing aid and comfort to the men and women of the United States Army, Marines, Navy, Air Force, Coast Guard, and their families. Founded by the mother of two American soldiers, we are an international, volunteer-led organization supporting America's men and women in uniform. With over 30 different teams and projects, our nearly 200,000 volunteers assist veterans, wounded and deployed personnel and their families in a variety of unique and effective ways. Learn how you can get involved!
Soldiers Bible Ministry
. Soldiers Bible Ministry's goal is to provide complete Bibles (both Old and New Testaments) to men and women in uniform
Soldiers of Christ Outreach Ministries (SOCOM)
. Enduring hardship with us like a good soldier of Jesus Christ. (2 Timothy 2:3)
---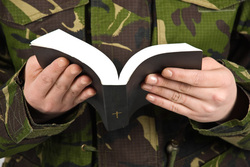 Stonecroft Military
. Volunteers across the country serve chapel-based ministries in their community through the network, training and resources offered by Stonecroft Military. Learn how you can get involved!
The 5 Love Languages
. Gary Chapman, author the
The 5 Love Languages: Military Edition
says this:
"
In spite of an already full schedule of marriage seminars, I found it crucial to make time to speak with military couples. Ultimately, finding open arms among the chaplains, I engaged myself by leading marriage seminars at Fort Bragg, and lectured psychology students at West Point. In addition I have also led seminars at a number of Air Force bases including: Holloman, Little Rock, Eielson, and the NATO forces stationed at Geilenkirchen, Germany."
United States Military Chaplains Bible Society
. The USMCBS was established to provide Bibles for the troops.
Veteran Car Donations
. "
Thanks to the countless car donations . . . our nation's veterans are receiving essential medical care, shelter, food, mental health services, and more." Find out how you can help!
Wounded Warrior Project
. "With the mission to honor and empower Wounded Warriors, WWP is the hand extended to encourage warriors as they adjust to their new normal and achieve new triumphs. Offering a variety of programs and services, WWP is equipped to serve warriors with every type of injury--from the physical to the invisible wounds of war.
Youth for Christ Military: Club Beyond
. "Youth for Christ Military places staff on military installations around the world to conduct Club Beyond, a ministry that works alongside military chaplains to combine healthy relationships with creative programs. Our desire is to help young people make good choices and establish a solid foundation for life as their parents serve in the US Military."
---
---
More Helpful Resources
Faith Deployed: Daily Encouragement for Military Wives
By Jocelyn Green / Moody Publishers

This collection of devotions squarely addresses the challenges that military wives face in their day-to-day lives. How can you maintain a strong sense of patriotism without allowing your country to become an idol? What good can possibly come from moving every two to three years? How can you be sure that God has a purpose for your life that is as strong as His purpose for your husband's? The foundation of this devotional is the unchanging character of God and the anchor of Jesus Christ, even amidst the shifting circumstances of a military family.
More Books for Military Families