Sports Ministry
The love of sports crosses all cultural and geographical boundaries. People like to watch sports . . . participate in sports . . . talk about sports. This makes sports ministry a natural avenue for reaching out with the gospel--both in the United States and around the world.

Read about the wonderful sports ministries below and visit their websites. Google to find even more. Enjoy the blogs. Find out how you can get involved . . . and make a difference.

Also, I recently learned about TeamSportsDevotions.com. They write and sell devotions for coaches who lead youth practice devotions. Well worth checking out! "Our curriculum is designed to meet the needs of churches, Christian schools, and faith-based youth leagues. We have created each devotional series with ONE consistent theme, for ONE dedicated sport, carrying through ONE full season. We offer baseball, softball, basketball, volleyball, football, and soccer. Team Sports Devotions teach kids about God's goodness and saving grace within the context of the sport they love to play."

Christian Sports International
"CSI runs sports, educational and workforce development programs in the suburb, urban and rural communities both locally and around the world teaching children and at-risk children sports skills, life skills and healthy life styles through an innovative approach so they may have the chance to become the best of the best."
Mission: "To change the hearts and lives of kids with the good news of Jesus Christ, impacting lives through sports and education programs both locally and throughout the world."
Learn more
.
---
---
Church Sports & Recreation Ministries

"Each and every day CSRM Staff, Board of Directors and individual members expedite the vision "to equip local churches to change lives through sport" through a four-fold "4C" strategy: Conference, Consulting, Certification, and Connections."
Mission: Train, equip and resource local church staff and volunteers, mobilizing them to build bridges in their communities using sport, recreation and leisure activities for the purpose of leading people into a transforming personal relationship with Christ.
Learn how you can get involved
.
---
---
Church Sports Outreach (CSO)
"CSO offers these three things to a sports ministry at a local church. The staff at CSO serve as coaches and mentors for sports outreach leaders. We provide
training
,
classes
, and leadership development to help these leaders integrate sports and ministry. Secondly, we help sports ministers connect with other sports ministers. CSO has worked with hundreds of churches in the United States and partner formally with 85+ churches in the
CSO Network
. This extensive network allows staff and lay leaders to connect with one another and learn from each other. Lastly, CSO aims to resource sports ministries through the
CSO blog
and
Products
. The blog and products serve as places to read articles, watch videos, and listen to messages geared around sports ministry." Please
visit the CSO website
.
---
---
Fellowship of Christian Athletes
The Fellowship of Christian Athletes is touching millions of lives… one heart at a time. Since 1954, the Fellowship of Christian Athletes has been challenging coaches and athletes on the professional, college, high school, junior high and youth levels to use the powerful medium of athletics to impact the world for Jesus Christ. FCA focuses on serving local communities by equipping, empowering and encouraging people to make a difference for Christ."

Learn more

about the ministry and how you can get involved.​

​

Daily Impact Play
Devotions from Fellowship of Christian Athletes:

---
Run for God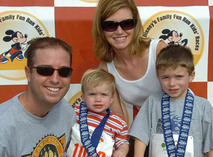 "Run for God started in January of 2010 as a Bible study that paralleled faith and endurance. It's goal was to take those who had never run to their first 5K all the while teach them to relate the great sport of running to their walk with Christ. Since then Run for God has expanded its studies to not only the 5K Challenge, but also the 10K/Half Marathon Challenge, and the Junior Triathlon Challenge.
"Tens of thousands have walked successfully through these programs. Many have found a new lifestyle and taken part in something that just months prior would have seemed impossible. Others have learned to share the message of Jesus Christ through a sport they now love.
"Whether you are taking the class or teaching the class, it WILL change your life!"Learn more.
---
---
Sports Friends
​Vision: "To equip churches in Africa, Asia, and South America to make disciples of youth, their families, and their communities through strategic sports ministry. . . . Sports serve as a powerful and effective tool for building relationships and sharing the gospel. Through relationships first built on the sports field, Sports Friends-trained coaches from the local Church are bringing hope to youth and their families. Much more than a sports coach, these "life coaches" are mentoring and loving young people, leading them to Christ and helping them walk as mature disciples of Jesus. By God's grace, lives are being transformed, new churches established, and entire communities strengthened!"

Learn more

.
---
Upward Sports

"Established in 1995, Upward Sports is the world's largest Christian youth sports provider. Upward Sports is the only organization that offers the
360 Progression™
, a uniquely designed total sports experience that adapts and expands as players grow in their personal athletic journeys. The 360 Progression develops total athletes mentally, athletically, spiritually, and socially – producing players who excel both on and off the field.
"Today, approximately half a million players at more than 2,000 churches in 47 states participate in camps, clinics, and leagues through Upward Sports' Recreation Division."
Mission: Promoting the Discovery of Jesus Through Sports.
Click here
to learn more and find out how you can get involved.
---
---
Yoleds Sports Ministries
| | |
| --- | --- |
| | "Yoleds Youth Leadership Development and Sports ministry seeks to serve the youth intentionally and passionately through engagement in culturally relevant means while promoting education and developing leadership potential and equipping them using sports as a tool to reach out holistically." Located in Lilongwe, the capital city of Malawi, Africa, the ministry reaches out to churches and para church organizations. |
​They teach church leaders the importance of training youth in the areas of evangelism, discipleship, soul winning, and leadership. Macgeofrey Mwale, Director of Administration, reports that response has been overwhelming and encouraging. They are seeing once stagnated churches now growing rapidly because of the youth sports evangelism.
If you would like to learn more about this ministry and how you could help, you may write Macgeofrey Mwale at PO Box 31008, Capital Cith, Lilongwe 3, Malawi. Or you may email him at
macgeofrey@gmail.com
or
yoledsmalawi@gmail.com
.
---