Israel:
Books & Gifts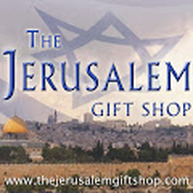 The Jerusalem Gift Shop
. Christian and Messianic gifts from the center of Jerusalem.
"Our shop, located in Jerusalem, the heart of the Holy Land, has a huge inventory of unique gifts that we have provided for you, our valued customers. We're happy to be your connection to Israel!
"The Jerusalem Gift Shop was created in 2003 with the vision of offering an extensive selection of gifts that are sourced in the Holy Land to Bible loving Christians around the world, enabling believers to connect to the Land and show support for Israel and its people. We are more than just a gift shop. We aim to be a resource for learning about the people of Israel and connecting with God people through our 'News from Jerusalem' blog, our picture galleries and soon our youtube channel. Genesis 12:3 "And I will bless them that bless thee . . ."
---
---
aJudaica.com

. "The online Judaica store with the finest selection of Jewish gifts," Tallits, mezuzahs, tefillin, prayer shawls, shofars, jewelry, and much more.

Find a wonderful variety of handmade olivewood gifts. "The Olive Tree has been highly regarded since ancient times. The Aramites in the fertile crescent announced it as the blessed tree. The Canaanites, the Philsistines, as well as all the nations who lived in the Holy Land throughout the centuries planted Olive Trees in various parts and tried to spread its cultivation. In the past, Olive Oil was used to anoint people in high posts, such as Kings. Olive Trees must be at last 150 years old before their wood can be cultivated. Only select branches are pruned. Some Olive Trees are over a thousand years old."
---
​




​Canaan Online. Your Destination for Extraordinary Handcrafted Judaica and Israeli Gifts. Canaan-Online offers a stunning, hand-picked selection of unusual Jewish Gifts and distinctive Israeli gifts for all occasions, including exclusive items you won't find anywhere else. Click on the image and explore!
Fruits of Galilee
. Fruits of Galilee Preserves and Marmalades are the fruits of love hand made by devoted Christians who have formed a community on the blessed hills of Mount Carmel. We came from Europe and North America to the Holy Land, the birthplace of Jesus, some six decades ago and now live in the historic old towns of Zichron Yaakov and Binyamina. Living from the blessings of the land, we make our delicious preserves and marmalades out of fruits harvested from the very same sacred soil that Jesus and the disciples walked.
Jerusalem Export House
. Christmas gifts from The Holy Land - Bethlehem? Olive Wood Nativities, Crosses & Statues, Crown of Thorns, Rose scented Rosaries and Decorative Wax Parchments? We have them. The Jerusalem Export House has been bringing the Holy Land to the World since 1969. We pride ourselves on our relationships with our customers and our suppliers. We endeavor to bring you the highest quality work, paying attention to artisanship, details, and price. We are very proud that each sale helps support Christian families in the Holy City of Bethlehem.
Zion Judaica
. A Jewish jewelry store with a plentiful selection.
---