Family Games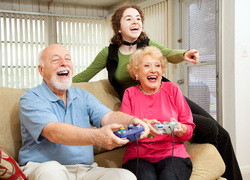 How times have changed.
Can you remember, as I do, when families sat down to meals together . . . played hours of monopoly or rummy . . . talked and had fun--together. Perhaps even gathered around the piano and sang together. This togetherness strengthened relationships and opened doors for communication.
Now we are all in such a hurry with a flurry of activities and commitments. And even when we are together too often the focus is on phones and texting and Facebook.
Think about setting a family time once a week. If you can't manage that, do it at least once a month. Find fun activities the family can share. Go on a picnic. Enjoy your favorite sports. Go hiking or swimming. Set the phones and iPads aside and focus on one another. You may even want to try some old fashioned board games!
Read this post from
Christian-Parent.com
for great Family Activity Night ideas.
On this page you'll find some sources for Christian games. Find some that are a good fit for your family. Whether you play games, go bowling, camp out, play a ball game, go skiing or whatever . . . set these special times aside. You won't regret it!
---
Any-Occasion-Free-Christian-Games
. "The best online source for fun Christian game ideas."
Best Religious Board Games
. Explore these Christian boards games and find the right ones for your family to enjoy together. Learn while you have fun!
Bible Word Games
. All the word puzzles on this site are Bible related. You will find a Bible trivia quiz, wordsearches, circle-a-word, crosswords, Kids page and Hangman quess-a-word and other Family on-line games.
ChristianBook.com
. Find a multitude of great family games and activities.
Christian Games! Now!
Welcome to Christian Games! Now! Finally there are alternatives that are helpful and beneficial to you and your family. We pray that these titles are a blessing to you.
Coral Island Adventures
. A dramatized audio adventure series for the whole family.
Nest Entertainment
. Inspiring and entertaining families for over 20 years! Videos, toys, games, books, and more.
PC Shareware
. Bible and inspirational shareware for Microsoft Windows.
Top 5 Christian Games for Children
. "Playing fun and interactive Bible-based board games are a great, fun way for parents to teach their children about the love of Jesus Christ!"
True Light Christian Store
. "These Christian Bible games will nourish your relationship with the Lord and take it to new levels, while having fun at the same time! Varieties of board games, Christian role-playing games, Christian word games, and Christian card games are great anytime and anyplace."