Find Hope in the Bible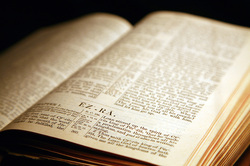 "Praise be to the God and Father of our Lord Jesus Christ! In his great mercy he has given us new birth into a living hope through the resurrection of Jesus Christ from the dead, and into an inheritance that can never perish, spoil or fade." (1 Peter 1:3-4 NIV)

Our world is in turmoil. And many of our personal lives are in turmoil. But there is hope! Our only hope is through a personal relationship with Jesus Christ. The Bible teaches us about him . . . and about hope.
---
---
Browse this area of Find Christian Links to find Bible study tools, daily Bible quizzes, daily devotions for adults and children, inspirational blogs and more.
Wondering if the Bible is true? Find some answers here.
Do you want to know more about what it means to be a Christian? Look
here
.
---
---
---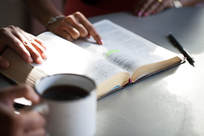 CHECK THIS OUT!
I recently learned about a relatively new biblical education nonprofit called
Truth Right Here
, which works to help young and old understand the Bible better. Their goal is to education individuals, train teachers, and equip churches to help people make sense of the Scriptures. According to their website, "To be honest, it's not easy to understand what the Bible is, what it means, and what we are supposed to do with it. We step in to make the Bible less confusing. Our mission is to develop people who understand how to study the Bible and glean timeless truths from its pages. This project isn't about telling you what to think--it's about helping you think for yourself." I urge you to take a few minutes to
browse through their site
.
---
---
Inspiring Websites

Courage for Today
. From Mike Weaver: "This Blog is dedicated to the memories and stories I have of yesterday, as well as those that will be lived out today and tomorrow. My goal is to share my Daily walk With Christ in a unique way, by using personal experiences, so that others might learn to love Christ as I do."
Power to Change
. Power to Change is a community of believers who, through serving the Church and others, mobilize people to live a life of bold and adventurous faith. We call this a Faith Adventure. Discover Jesus. Experience His Power. Inspire others.
Scripture-Study.org
. "The Word of God without the doctrine of man"
Strength 2 Strength
. Devotionals, articles, tools and references to help you grow in your walk with God. Provides encouragement and advice for practical decisions for daily living.
Words of Testimony
. The purpose of Words of Testimony is to glorify the Lord Jesus Christ through the testimonies of his people. And to spread the Gospel of Jesus Christ, God's plan of salvation to restore mankind to Himself. Each testimony is the true story of an individual who desires to share with you and the whole world what God has done in their life.
---
90 Minutes in Heaven: A True Story of Death & Life
By Don Piper with Cecil Murphey / Baker

After a devastating car accident, Baptist minister Don Piper is pronounced dead at the scene. During the next 90 minutes, he remembers hearing beautiful music, meeting those who had a spiritual impact in his life, and experiences deep peace--until suddenly he is brought back to "real life" through another minister's prayer in this amazing true story.
---
You Are Captivating: Celebrating a Mother's Heart
By John & Stasi Eldredge / Thomas Nelson

Best-selling author Stasi Eldredge celebrates the glorious design and beauty of a mother released to be all she was meant to be. Perfect for gift-giving, this compact booklet will encourage and inspire every mother with the knowledge that she is truly captivating.
---
Lessons from a Sheep Dog: A True Story of Transforming Love
By Phillip Keller / Thomas Nelson

What you see is not always what you get - and this true story of a man and his dog is no exception. Woven just under the surface of this simple parable, Keller presents profound spiritual truth. It is the story of Lass, a worthless animal thought to be untrainable, who becomes a magnificent and valuable sheepdog - not terribly unlike how God's love can transform our worst characteristics into blessings that serve to further His Kingdom. Allow yourself to see Biblical truth in this classic tale of what can happen when you yield to the Master.
---
One Month to Live: Thirty Days to a No-Regrets Life
By Kerry & Chris Shook / WaterBrook Press

What if you only had one month to live? How would you make each day really matter? What would you start, or stop, doing? How would you relate to others? "One Month to Live" empowers you to focus on being who God created you to be--passionate, fully alive, living without regrets. Written in 30 short insightful chapters, this is one month's journey you'll never forget. 226 pages, hardcover from Waterbrook.
---
When I Lay My Isaac Down: Unshakable Faith in Unthinkable Circumstances
By Carol Kent / Nav Press

When God calls us to lay down the place, ministry or even the person we love most on the sacrificial altar, how will we respond? When her only son committed murder Carol Kent was forced to lay the person she valued most, or her "Isaac," in the hands of God. Fortunately, like Abraham before her, in the midst of her terrible sacrifice Carol encountered the God who loves her more than she loves her Isaac and she learned, little by little, to trust her Isaac to His caring hands. If you or someone you love is in the process of laying down an "Isaac," you will find Carol's heart-wrenching story and godly guidance absolutely indispensable.
---
A Gift of Comfort for a Hurting Heart
By Alice Gray / Multnomah Gifts

Console a hurting friend with this lovely bouquet of uplifting thoughts to soothe her troubled soul. Filled with inspirational quotes from Charles Swindoll, Ruth Bell Graham, Jane Kirkpatrick, and others, it's perfect for lightening the burdens of any heart---including your own. Includes a presentation page. 64 pages, 4" x 4.5" hardcover from Multnomah.
More Inspirational Books