Caregiving Ministries
Equipping to Encourage
. "D
edicated to helping people
provide emotional and spiritual encouragement
to patients and their caregivers, especially those facing cancer.
HomeTouch. "Each week, you can send your home-bound members a personal package from your church. It will contain two pages printed in LARGE type for easy reading, reminding them of how much they are remembered and loved."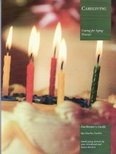 ​Living Free small group curriculum
. The purpose of
Caregiving: Caring for Aging Parents
is to provide hope and direction to those concerned about the health and well-being of aging parents or an ill spouse or relative. We address predominate issues most families face. Each session is designed to discuss a specific area of concern such as the purpose of a caregiver or end-of-life planning. It will become clear to participants that the Bible provides encouragement and direction to help them through this caregiving journey.
---
​
Stephen Ministries
. "Stephen Ministry congregations equip and empower lay caregivers--called Stephen Ministers--to provide high-quality, confidential, Christ-centered care to people who are hurting."
---
Other Caregiving Resources
AgingCare.com
. "We believe passionately that AgingCare.com is your community. We're your partner in caregiving—and as such, you've made us the go-to destination for family caregivers. AgingCare.com is where caregivers discover that they are not alone, how to survive, and how to provide the care their loved one needs."
ARCH
. National respite network dedicated to finding temporary relief for caregivers and families who are caring for those with disabilities, chronic or terminal illnesses, or the elderly.
Assisted Living Directory
. Locate assisted living facilities in your area. Free listings available.
Benefits CheckUp
. A service of the National Council on Aging (NCOA). Guide to financial help available from private and government programs.
Caregiver.com
. Comprehensive site for all caregivers. Helpful magazine and Fearless Caregiver Conferences.
​
Caregiving.com
. "When you care for a family member or friend, we care for you. We're a community of supportive individuals caring for a family member or friend. We care for parents, spouses, siblings, grandparents and anyone we consider family. We care for you before, during and after caregiving. Create your free account to join our daily, weekly and monthly chats, to start your blog and to connect with others who understand."
CaregivingStress.com
. "Care for yourself while caring for an aged loved one."
Caring Connections
. Hospice site with help for end-of-life planning. Advance directives, caregiving, free brochures, financial planning, Hospice, grief.
​
Cerebral Palsy Group
. "We will always strive to bring you the best information and educational resources available about cerebral palsy.
Custom Elder Care
. "Quality life for those in care . . . for those who care." Create a personal caregiving manual for an elder one loved at home or in a facility. Also plan for quality care in your later life. Take time to explore all the help available in this great site.
Eldercare Locator
. A public service of the U.S. Administration on Aging that links those who need assistance with state and local area agencies on aging and community-based organizations that serve older adults and their caregivers.
ElderImpact.org
. "
Our mission is to empower seniors against ageism by making handy the information they need to keep controlling their own lives. Our team works to incorporate market research with senior needs."
Fire Safety For People With Disabilities: A Reference Guide
Good Call
. A Guide to Helping Senior Citizens Stay Safe at Home.
Guide to Senior Safety at Home
. "This resource guide will review the steps that can be taken to create a safe living area for seniors, discuss how technology can assist, and how to gauge the warning signs that indicate an entirely different approach may be necessary. It concludes with a list of resources for additional information on senior safety."
​
Help for Alzheimer's Families
. Alzheimer's and dementia support.
​
Hospice Directory
. "Your Bridge to Hospice."
LINCS: Linking Individual Needs to Care Services
. "LINCS is a Care Management business that helps alleviate short-term problems and can assist people just like you with finding services related to the care of you or your loved one."
​
Mattress and Bedding Guide for People with Disabilities
. "A comprehensive guide to help increase awareness about disabilities and sleep including expert advice for on sleep products and bedroom setup for those with disability, curated resources for all of the five disability categories, caregiver resources and much more."
Minding Our Elders
. Information, support, and shared experience for caregivers and seniors.
Music & Memory
. "MUSIC & MEMORY℠ is a non-profit organization that brings personalized music into the lives of the elderly or infirm through digital music technology, vastly improving quality of life."
National Association of Professional Geriatric Care Managers, Inc
. Locate a professional to help you create a caregiving plan.
National Center for Assisted Living (NCAL).
NCAL is dedicated to promoting high quality, principle-driven assisted living care and services with a steadfast commitment to excellence, innovation and the advancement of person-centered care. Read also the
Assisted Living State Regulatory Review 2012
.
National Clearinghouse for Long-Term Care Information
. This website was developed by the U.S. Department of Health and Human Services to provide information and resources to help you and your family plan for future long-term care (LTC) needs.
National Council for Aging Care
. Guide to recognizing elder abuse.
Nursing Home Abuse Guide
. "Within our nursing homes and assisted living facilities, nearly 10%, or roughly 150,000 seniors experience elder abuse each year. This website was created to inform and educate the public on a devastating epidemic which is overwhelming our nations senior population."
Nursing Home Abuse Center.
"Nursing Home Abuse Center (NHAC) is a free online resource with information about senior and elder dangers and safety options.It was founded on time-honored principles of restoring dignity for some of our most vulnerable and valuable citizens."
​
Nursing Home Abuse Support
. "Our goal is to increase elder abuse awareness, educating the public with factual and current information relating to elder abuse and neglect within the United States and throughout the world."
​
Online Safety for Seniors
. A comprehensive guide to keeping seniors safe online.
​
Rest Ministries
. "Rest Ministries, Inc. is a non-profit Christian organization that exists to serve people who live with chronic illness or pain, and their families, by providing spiritual, emotional, relational, and practical support through a variety of programs and resources."
Senior Guidance
. In additional to providing a number of helpful senior living resources and articles, we enable seniors and caregivers to search and find 40,000+ long-term care facilities in more than 7,500 cities across the United States.
​
Senior Help Desk
. "The mission of Senior Help Desk is to enhance the lives of our seniors through the organization and accessibility or resources. We strive to offer the most comprehensive, interactive, and shareable resource center for finding community trusted professionals, resources and services for our seniors. We offer a resource directory, discussion groups, blogs, articles and a community events calendar."
Strength for Caring
. The Johnson & Johnson Caregiver Initiative is a pioneer in the emerging field of family caregiver support and StrengthForCaring.com (SFC) is the cornerstone of this important program. SFC is a comprehensive website designed to provide family caregivers with a broad range of expert content and information, an emerging on-line community, daily inspiration, and much needed support.
Toolkit sent to us by
EducatorLabs.org
:
Well Spouse Association
. the Well Spouse® Association offers the spousal caregiver the chance to regain their balance and catch a second wind in their caregiver journey. ​