Find Help If You Are . . . Considering an Abortion

Facing an Unexpected Pregnancy?

Perhaps you are feeling anxious, worried and confused about what to do. Or maybe you just feel desperately ALONE. Help is available. Don't try to do this alone! Talk to your pastor or someone in your church. You may be surprised to learn how understanding they are.

Most of all, remember that Jesus loves you. Unconditionally. And He loves your unborn baby. He does not condemn. Instead, He loves unconditionally. Ask His forgiveness for any wrong choices you may have made. He is waiting for you with open arms. He wants to help you. He will walk you through all this . . . step by step.

"Don't worry about anything; instead, pray about everything. Tell God what you need, and thank him for all he has done. Then you will experience God's peace, which exceeds anything we can understand. His peace will guard your hearts and minds as you live in Christ Jesus." Philippians 4:6-7

---
---
Help is available!

When we pray for help, God often sends that help in the form of people. Ask Him for wisdom. Find out what help may be available in your church. Or perhaps they can refer to you a local group or agency that can help.

You can also find help at a pregnancy resource center. There are many available around the world. I am most familiar with the one in Chattanooga, Tennessee. If you live in Tennessee, I recommend you contact Choices Pregnancy Resource Center (contact information listed below). You will not be judged or put down in any way. You will be treated with only love and respect.

If you are not in Tennessee, try one of the other similar organizations listed below. Most of them will help you plow through the alternatives you have, provide helpful abortion information and will help you in others ways as well.
3 Questions to Answer When Considering Abortion
---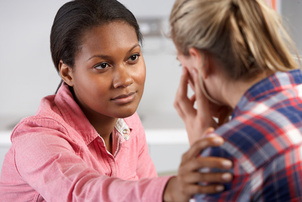 Adoption.com
. Help in finding alternatives to abortion.
Birthright International
. Birthright takes a "non-moralistic, non-judgmental" approach toward helping women through their pregnancy dilemmas.
Care Confidential
. Located in the UK, CareConfidential offers you a calm space, a listening ear, accurate abortion information and time to think through the decision-making process. We offer you friendly support and practical assistance.
Choices Pregnancy Resource Center
(formerly AAA Women's Services). "Our doors are open to anyone, without discrimination, in an unintended pregnancy. All services are provided at no charge and made possible by the generosity of friends, churches and foundations in our community.
423-892-0803.
Harbor House Maternity Home
. Since 1990, Harbor House has been one of only a handful of Christian programs in the United States that provides housing and support to pregnant teen girls (ages 11-17) exclusively.
Heartbeat International
. Worldwide directory of pregnancy help centers.
Just the Facts
. View the amazing facts of life before birth.
I'mPregnant.org
. "The goal of pregnancy counseling at Bethany Christian Services is to ensure that every client facing an unplanned pregnancy receives accurate and complete information about their options and those for their child. We want every client to make a fully informed decision that is the best one for the expectant parents and their children."
LIFE
. Loving life, offering hope. We offer free, confidential information, counseling and support for women contemplating abortion, suffering after pregnancy loss or struggling to cope after abortion. Our trained counselors and skilled helpers are there to listen, not to judge. Located in UK.
National Council for Adoption
. If you have an unplanned pregnancy and are trying to make decisions that will be in your best interest and in the best interest of your child, adoption may be right for you. Visit this site to learn more.
The National Life Center
. We can help any woman or girl to find medical, legal or psychological help as well as shelter, education and adoption guidance as desired.
Prenatal Partners for Life
. Support information and encouragement for carrying to term with an adverse prenatal diagnosis and support for raising your child with special needs after birth.
---